Innovative Ideas Will Accomplish Goals
"Wow. In just six months of working every other week with Carroll, I have gained increasing power at work, found a real passion in my off-hours, and met people with whom I share interests. Carroll's global approach to all the facets of my fine-but-boring life has been wonderful. Following my non-linear...
Week-in-review: Practicing the Space Walk
Posted June 3rd, 2010 by Carroll King Schuller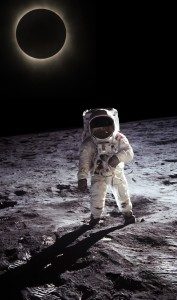 Yesterday marked the 45th anniversary of the first American space walk. The space walker, astronaut Ed White, was on the Gemini IV mission. He described it as the happiest time of his life — dancing and spinning above the sparkling earth.
I think this moment in time teaches a powerful lesson.
Let yourself wish and long for those gravity-free moments.
Dwell in a world of possibility.  Surround yourself with ideas and people that inspire you.  The stuff of dreams isn't just for little kids.  It's worth reminding ourselves of that in very deliberate terms. In fact, big dreams and improbable flights of fancy can be important fuel.
Dreaming big gives us energy for the long haul.  
White's space walk became a reality not just because he dreamed about it–wanted it, longed for it–but also because he put forth a great deal of hard work.  Months and years of studying and preparing for life as an astronaut led up to those brief minutes of freedom.
So, let yourself dream and then turn the passion of those hopes into real, tangible action.
Sit down with a notebook: Jot down big ideas AND the strategies you need to pursue them
Talk with a partner or trusted confidant:  Look for someone supportive, but impartial.  You'll need to stay focused and challenged if you're going to take the first step out of the shuttle and into the cosmos.
The NASA image of the day commemorates the moment.
more about "YouTube – Gemini 4 | NASAs First Ever…", posted with vodpod