Innovative Ideas Will Accomplish Goals
"Wow. In just six months of working every other week with Carroll, I have gained increasing power at work, found a real passion in my off-hours, and met people with whom I share interests. Carroll's global approach to all the facets of my fine-but-boring life has been wonderful. Following my non-linear...
Keeping Your Career Fit—10 Reasons to Hire a Career Coach
Posted January 12th, 2012 by Carroll King Schuller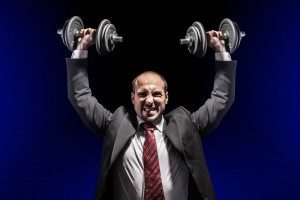 The relationship between a client and a career coach is similar to that of a client and a personal fitness coach. People seek out fitness coaches because they need help with their physical activity, wellness habits and routines. They want to get in shape and feel better, but need a professional who can answer questions, give advice, and keep them on track.
Career coaches work with clients who want to get their career into shape.   This is a collaborative relationship that arms clients with knowledge about themselves, the best route to achieve their goals and career results.
10 ways career coaches are similar to personal fitness trainers:
1.  Assessment
Career coaches will begin the relationship by assessing your strengths, talents, and skills just as personal fitness coaches watch your form and monitor your vitals to provide objective feedback about your limits and strengths.
2.     Motivation
One of the main reasons people benefit from a coach is to get motivation to stick with a consistent program. Career coaches provide structure and accountability, and encourage you to develop a path for success and balance in your work and personal lives. They will push you to stretch yourself harder than you would on your own or slow you down as necessary when you are losing focus.
3.     Individualized programs
Coaches work with their clients to design effective, personalized strategies to help the client achieve success and become happier, more peaceful, and more inspired. They will ask the hard questions and consider all of your needs including career goals, desired financial results, family life, exercise, diet, and fun.
4.     Efficiency
Career coaches help you create consistency in your objectives and stop wasting your time with inefficient pursuits. Your coach has a plan and will help you get maximum results in minimum time.
5.     Improve skills
The coach will help identify skills you may need to sharpen in order to stand out in your particular field. Coaches will incorporate skills training into your program so you improve not only your strengths but your mental focus.
6.     Starting your career
If you are a new college graduate a good coach will introduce you to very simple, effective strategies so before you know it, you have the confidence and knowledge to decide what is right for you in pursuit of your career goals.
7.     Break through plateaus
You are established in your career and everything has been going well for several years, but you feel stuck in a rut. A career coach is perfect for helping to jump start your work life by reassessing your goals and pushing you to the next level.
8.     Career change
If you ultimately want change the direction of your career or switch careers completely, hiring a career coach is an effective way to learn about yourself. Coaches challenge you to look at things differently and to re-evaluate your
assumptions, expectations, reactions, and beliefs about yourself and success. This re-evaluation process will enable you to pursue the career that will be most rewarding for you.
9.     Learn to do it alone
Some people seek out coaches to learn how to design and implement their own strategies for career growth and only need to hire a career coach for a few months. All good coaches will teach their clients the basics of building and modifying a career fitness program to achieve maximum results.
10.  Be successful
There is a good reason that the number one reason people hire personal trainers is to lose weight and get into shape—it works. The same is true for career coaching—it works. If you have resolved to get your career in shape, a career coach can keep you on track and help you realize that goal.
Ready to get your career in shape?  Take the first step with my complementary initial session. I can be reached at either 804.288.0099 or 804.869.5403.